Smart Door Locks, and More ToF Sensors Land Roles in PCs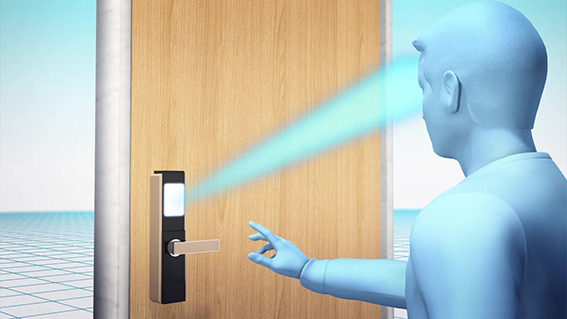 STMicro's ToF Sensors for Human Presence Detection
For its part, last month STMicroelectronics (ST) unveiled the latest ToF sensor of its FlightSense product line, the VL53L5CP. The device is aimed at enabling gesture recognition, intruder alert, and human presence detection in PCs.
According to ST, the new ToF sensor improves interactions, enhances security, and delivers power-saving attributes to PC cameras. The company's FlightSense portfolio has come a long way since ST's first 64-bit multi-zone ToF sensor was announced in late 2020.
The VL53L5CP starts by scanning a 61-degree field of view to map out the scene, gathering intelligence without using a camera or prerecorded images. Using ToF technology, the sensor can detect and log multiple targets, measure X/Y/Z coordinates, and track several targets within 64 zones.The new sensor is provided with ST's third-generation Presence Premium PLUS software. The software has dedicated algorithms that enable PC designers to create custom AI applications. This combo lets them implement smart power management, security, and touchless user interaction features, says ST.
At the hardware level, the VL53L5CP has an embedded single-photon avalanche diode (SPAD) array, physical infrared filters, and diffractive optical elements (DOEs). Each component can assist PC cameras to reflect/deflect light to obtain interactions or gestures in various ambient light levels.
Those technologies make the VL53L5CP well suited for human presence detection in PCs. ST reports that PC manufacturer Lenovo is integrating the VL53L5CP into a select number of its laptops. More information is available in the VL53L5CP data brief.
Analog Devices' ToF Module for 3D Depth Sensing
Going for a modular approach, at the Sensors Converge 2022 show in June, Analog Devices debuted its ADTF3175 ToF sensor module. The company claims it as the industry's first high-resolution, industrial quality, indirect ToF (iToF) module for 3D depth sensing and vision systems. The device is designed to enable cameras and sensors to perceive 3D space in resolutions of 1 megapixel. It offers a depth accuracy of ± 3 mm across its full depth range of 0.4 to 4 meters. 
At the heart of the ADTF3175 module is the company's ADSD3100 chip, a 1-megapixel CMOS iToF imager. The module also integrates the lens and optical bandpass filter for the imager, an infrared illumination source. The source consists of optics, laser diode, laser diode driver and photodetector, a flash memory, and power regulators for producing local supply voltages.  Analog Devices says that the module comes fully calibrated at multiple range and resolution modes. Completing the depth sensing system, the raw image data from the ADTF3175 is processed externally by the host system processor or depth ISP.
Interfacing the ADTF3175's image data output to the host system is done via a 4-lane MIPI (mobile industry processor interface) CSI-2 (Camera Serial Interface 2) Tx interface. Programming and operation are accomplished through 4-wire SPI and I2C serial interfaces. The ADTF3175 module's size is 42 mm × 31 mm × 15.1 mm and is rated for an operating temperature range of -20°C to 65°C. More information can be found in the ADTF3175 datasheet.
Firms Team Up for Hybrid 3D ToF Sensor
In another 3D ToF sensor effort, Toppan and Brookman Technology announced a collaboration to create a hybrid 3D ToF sensor that can scan up to 30 meters and is well suited for autonomous drones and industrial applications.
In 2021, Toppan Electronics acquired Brookman Technology, a company specializing in the design of advanced CMOS image sensors. Brookman originated from Shizuoka University in Japan. 
For the sensor product, Toppan leveraged Brookmans' short-pulse modulation to anticipate obstacles that could threaten an autonomous drone or industrial device. Coupled with Toppan's light canceling function, the hybrid ToF sensor can scan areas and withstand 100,000 lux illuminance, equivalent to the brightest midsummer day, says Toppman. 
For comparison, ST's FlightSense can reach a range of 400 cm (4 meters) which is significantly less than Toppan and Brookman's latest ToF prototype. However, ST's solution focuses on improving cameras in PCs, which don't require much separation between the object (human) and the camera. Toppan and Brookman are aiming to add smarter 3D image sensing for autonomous drones and industrial devices, which will require a longer range than ST's model.
ToF Sensor Adds Facial Recognition to Smart Door Lock
Smart door locks are among the applications of ToF sensor technology. Along those lines, in June TDK InvenSense announced that its CH201 ToF sensor was integrated into a new high-end smart door lock design from Kaadas. The Kaadas K9-5F is a 3D face recognition, push-pull door lock. By designing in TDK's ToF sensor, Kaadas improves object recognition while extending the battery life of their smart lock, says TDK. 
he SmartSonic sensors embed a MEMS PMUT (piezoelectric micromachined ultrasonic transducer), which is composed of a thin silicon membrane and a piezoelectric layer that brings out the ToF capabilities.
Once an electric field is applied over the piezoelectric layer creating a transverse wave, the PMUT will transmit this wave that deflects off an object and reflects back to the PMUT. The wave creates stress on the PMUT's membrane film which is received as data used to calculate the distance. 
According to TDK, the SmartSonic CH201 sensor ensures low power for the Kaadas smart lock and provides facial recognition from up to 0.8 meters away in any ambient lighting. This adds another form of security for Kaadas' door locks, bringing the total up to 6 different ways to unlock a door. More information is available on the SmartSonic CH201 sensor's datasheet.
ToF Sensors Offer a Simpler Imaging Approach
In some ways, ToF sensors can be thought of as a replacement for sophisticated imaging or vision systems. ToF sensors detect only the 3D data that's required without needing to capture and process image data. The products in this article show how ToF sensor technology is leveraging this idea for several interesting applications.